3 Alice Street
BASSENDEAN (Perth) 6054, Western Australia
Ph: +61 8 9279 5522 Fax: +61 8 9279 9386
News
July 2016

Sep 2015

Oct 2014

June 2013

December 2012

November 2011

October 2011
Newsletter
Industry Innovation Councils
Latest News
CHOGM 2011
October 27, 2011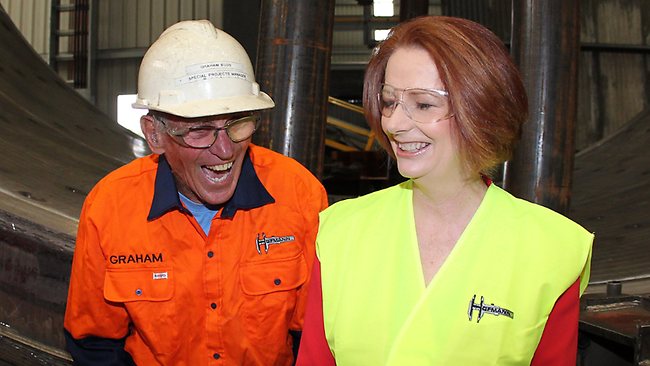 Graham Budd at Hofmann Engineering jokes with Julia Gillard in Bassendean, Western Australia.
JULIA Gillard has urged Australian manufacturers to embrace innovation as a means to grab their share of the mining boom and pledged $1.2 million in grants to help link them to massive new mining projects.
The Prime Minister made the call yesterday when touring a Perth manufacturer that is making components for mining equipment, describing it as a perfect example of the future of manufacturing.
Her tour of Hofmann Engineering followed months of pressure from unions and manufacturers for government help to cope with the effects of the high value of the Australian dollar after steelmaker BlueScope ended steel exports from the Illawarra, costing more than 1000 jobs.
The government refused to embrace protectionism but promised efforts to help Australian manufacturers win access to work within new mining developments. It has also argued that the future of Australian manufacturing lay in innovation and hi-tech products because it could not compete with nations such as China on simple, high-volume manufactured products.
Taking a break from meetings associated with the Commonwealth Heads of Government Meeting yesterday, Ms Gillard toured the Hofmann facility, where the company designs and produces components for mining machinery. The family company employs 600 people and exports to 20 countries, using computer design technology to produce more reliable products than its overseas competitors.
"Other sections of manufacturing would do well to look at the track record of this place -- how it has stayed at the forefront of research and development, how it has met its customers' needs and how it has been investing in skills and training every step of the way," Ms Gillard said. "These are the key ingredients that has made this business a success and this business is now drawing from the wealth of the resources industry.
-- By Matthew Franklin, THE AUSTRALIAN, THURSDAY, OCTOBER 27,2011
www.theaustralian.com.au